Top Reasons You Should Be Using Sex Toys With a Partner
Using sex toys can be somewhat intimidating for many first time users. Whether you are considering buying a vibrator or you would like something that you can enjoy with a partner, there are a wealth of options available to you and with stores like GoshToys, you can have them shipped discreetly to your home.
Even if you feel like you have a great sex life, sex toys can bring in a number of new experiences for you and your partner. If you have never shaken things up by bringing in toys or surprised a partner with a toy, here are some of the top reasons you should be using sex toys with a partner:
They can give you a helping hand:
If you find that it can be difficult to climax at times or your partner is not always able to have an orgasm, toys can take the pressure off. With a vibrator, sleeve or even unique condoms it might be possible to get the helping hand you need to enhance sex and have a more efficient time with reaching orgasm.
A greater chance for more intense or multiple orgasms:
Sex toys are purposefully designed to stimulate pleasure zones throughout your body. Because the toys are designed to reach areas like the clitoris or male G-spot more efficiently, you can set yourself up for a much more intense orgasm or multiple orgasms. If you or your partner has never tried toys before, using one for the first time together can be a revelation on what an intense orgasm can feel like.
Exploring together makes for better sex:
Buying a sex toy to use only by yourself may make your partner feel threatened or jealous. Exploring together is an excellent way to improve your sexual bond and to find out if you have any new kinks together. You can start out with small toys like a vibrator and move up to trying items like blindfolds, clamps, handcuffs and more to try new fantasies.
They help you get creative:
As well as having better sex, you can open up new possibilities in your favorite positions and get creative with the way you have sex. If you both like the stimulation of a vibrator, this might mean you have to change up your positioning to use one during sex. These creative adjustments will make for new and creative ways that you can connect and have sex.
Shopping together can be a fun and sensual experience:
Picking out sex toys online at sites like GoshToys can be a fun and sexy experience for you and your partner too. You can talk more about what you like, what your fantasies may be and what you may be open to trying in the future. Thinking about all the ways you can explore can help you connect in new ways and appreciate each other as well as your new fantasies.
Be sure to check out our blog for future guidance on toys you should buy first and check the product pages to pick out toys you and your partner can use!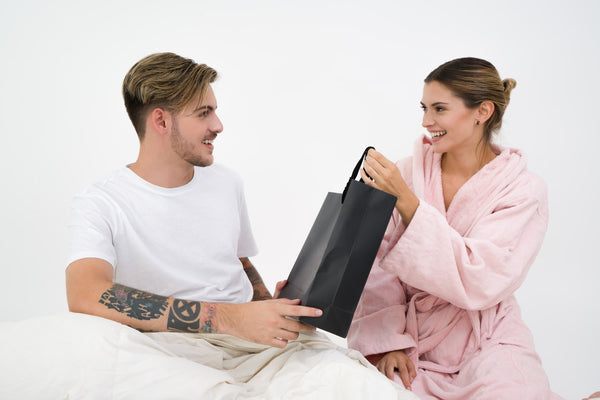 Original Article By GoshToys